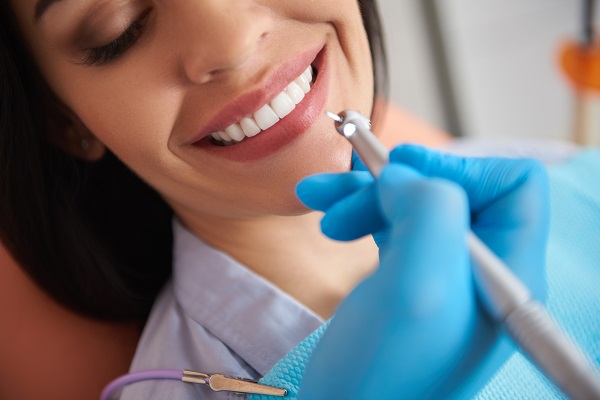 A professional dental cleaning is non-invasive, and the entire process only takes a short amount of time on each visit. While the process for the visit may vary slightly for each patient, there are common steps involved with check-ups and professional dental cleaning visits that can be expected.
The professional dental cleaning process
The process for a dental cleaning typically involves an examination of the patient's oral health, the professional dental cleaning procedure, and putting together a restorative or preventive care plan for the future. This review discusses what patients can expect with each step in the professional dental cleaning process.
Oral examination and dental X-rays
An oral examination involves the dentist checking all areas of the mouth for any concerns that may have developed since the last dental cleaning visit. Depending on how long it has been since the patient had previous dental X-rays, those may be ordered as well. Based on the information gathered, the dentist and patient can determine the best course of action to help the patient keep a healthy smile.
The dental cleaning procedure
The dental cleaning procedure involves scaling away all the plaque and tartar that may have accumulated since the last visit, followed by teeth polishing and flossing. The dentist or hygienist can thoroughly rinse the mouth out after the cleaning to provide the patient with a fresh and clean feeling. Fluoride treatment may also be applied, depending on the strength of the patient's enamel.
Discuss additional treatment goals (if applicable)
If any oral health concerns are detected during the oral examination process, then the dentist may recommend additional treatment. For example, the dentist may schedule a follow-up visit for a dental filling if there are cavities. However, not all patients require a follow-up visit for additional services. Patients who are in ideal oral health can simply schedule a convenient time for their next cleaning in approximately six months.
Talk about how to care for teeth between visits
Dentists seek to learn more about the patient's oral care routine and determine ways for patients to better protect their smiles between visits. In general, caring for oral health between visits should include brushing several times per day, flossing regularly, using mouthwash as recommended, and limiting the consumption of sugar and other carbohydrates.
Schedule a follow-up appointment for the next cleaning
The average recommended time between cleanings is six months. Some patients may benefit from more frequent cleanings, whereas other patients may only require one every eight months. Based on the patient's availability and the need for the next dental cleaning, an ideal time will be scheduled for the next visit.
You can schedule a professional dental cleaning at our practice
Professional dental cleaning visits are encouraged approximately every six months for the average patient. If you are due for your next cleaning visit, then consult with us today to schedule a time to come see us. We do our best to make your cleaning visits easy, fast, and non-invasive.
Request an appointment here: https://www.drsarahlangston.com or call The Dental Wellness Group at (601) 533-4788 for an appointment in our Brandon office.
Check out what others are saying about our dental services on Yelp: Dental Cleaning and Examinations in Brandon, MS.
---
Related Posts
October 5, 2021
A dental cleaning is a preventative treatment that can protect teeth against tooth decay and gum disease. The treatment is performed to remove plaque and tartar from teeth surfaces. Plaque is …