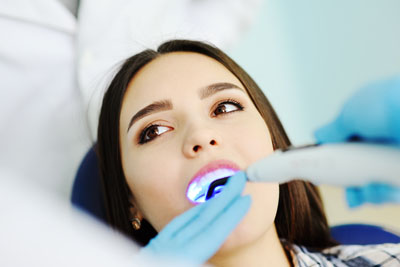 When you visit our Brandon office for a dental restoration, we may discuss dental fillings. The Dental Wellness Group has several ways to restore damaged teeth, and this is one of them. Our goal is to help you maintain healthy teeth for a lifetime, and restorations play a critical role in that. A dental restoration allows you to maintain a tooth and use it like you always have.
Otherwise, that same tooth may need to be pulled or extracted at a later date. We do not want that because losing a tooth has other health implications and can lead to challenges like resorption in your jawbone. As such, it is important that you visit our dental office right away if you have a toothache or have damaged your tooth.
Dental Restoration
While most people do not think of dental fillings as a dental restoration, that is exactly what they are. When a patient has a cavity, the patient actually has tooth decay. Once a portion of the tooth has an infection, there is a chance that it will spread to the rest of the mouth. To solve the problem, we need to remove the decay and clean the tooth. removing the decay will leave a portion of the tooth structure missing.
Without restoring the tooth structure, patients will be unable to bite down and eat like normal. We will place a filling in the tooth structure and shape it to be the right fit for the teeth above and beside the tooth. Thus, we can restore the bite and patients can eat without feeling any discomfort or irritation.
Chipped Teeth
Dental fillings can also restore a portion of a tooth that has chipped off. While it is possible to seriously chip a tooth and need a restoration like a dental veneer or dental crown, many chips are relatively small. For example, an individual may chip a tooth when biting into something hard like a piece of ice or a nut. The chip may be so small, it does not visually change the appearance of the tooth very much, but still, causes discomfort. In this case, a dental crown will be overkill. Patients can use a dental filling instead and the restoration process will go much faster.
Root Canal Treatment
We can also use dental fillings to restore a tooth after a root canal. The process depends on the size of the infection and hole we have to create. Whenever possible, we will use a dental filling because our goal is to restore the tooth using the appropriate treatment. We do not want to give a patient a dental crown unless he or she needs one since a crown is a permanent solution.
A filling, on the other hand, is a non-invasive solution that patients can keep forever or replace with something different. We do not need to remove any of the enamel when we are using dental fillings as a dental restoration. To learn more about this natural-looking solution, call our office at (601) 533-4788 and schedule an appointment.
---
Related Posts
September 1, 2021
Dental fillings are one of the best ways to restore missing , however, one question that comes up is how long these fillings will last. There are different types of fillings …
---