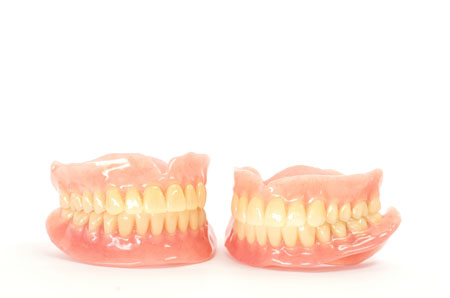 When you are planning to get dentures in Brandon, you should learn all there is to know about this teeth replacement option. Many people receive dentures and then realize they do not know how to properly care for them. Continue reading to learn a few interesting facts that will come in handy when you have quality dentures.
Dentures Should Be Cleaned Daily
To keep your dentures from damage and to keep them looking good, you should clean them as often as you would clean natural teeth: every day, twice a day. When dentures get dirty, they can irritate your gums and cheeks, developing infections and inflammation. You can also lose any remaining teeth you may have by allowing bacteria to remain on and around your dentures. You can steer clear of problems entirely by cleaning your dentures thoroughly and properly.
You should brush your dentures with a cleaning paste developed only for dentures. Brush them thoroughly to remove any food particles or buildup. You should soak your dentures overnight in a denture cleaner solution. This will kill about 99 percent of bacteria living on your dentures. Brush the dentures again after they have been sitting in the solution before you place them back in your mouth. Brush gently and never use too much pressure or very hot water, or your dentures could break or become warped.
Use Dentures Designated Cleaners
There are many types of cleaners for each type of dentures. If you have questions about which one you should get, we can help. Find the right cleaner in order to avoid damaging delicate areas of your dentures, like the metal security clasps or the pink lining. You should avoid bleaching products to color your dentures unless instructed otherwise. Normally, bleaching agents will weaken your dentures, making them more vulnerable to warping or cracking. Regular toothpaste can be too abrasive and may cause scratching, making your dentures less realistic-looking.
Avoid Staining Your Dentures
Dentures can easily be stained if you drink a great deal of coffee, tea, red wine, or eat dark-colored foods. You can avoid stains by limiting your intake of these items. If you do notice staining, you can have your dentures professionally cleaned to remove surface stains. You could also consider removing your dentures to consume these items at home.
Make Regular Appointments
Once you get your dentures, you should continue to visit the dentist regularly. Many people think that once they receive dentures, they are set for life with no need to return. Visiting our office will increase the life of your dentures. We can professionally clean your dentures and any teeth that remain. We can make sure your dentures are still fitting properly. We will be able to tell if you are not cleaning your dentures like you should, and we will refresh your memory on the cleaning process. You should also keep in mind that even if you do not have any other teeth, your gums are still at risk for infection. We can make sure that doesn't happen.
We hope these basic instructions regarding dentures will be helpful during your time wearing them. When you have questions, problems, or need adjustments made to your dentures, feel free to visit our office for help.
---
Related Posts
June 1, 2023
Dentures are removable plastic and metal covers that fit over the top and bottom teeth to help improve eating, speaking, and overall oral health after tooth loss or tooth decay has occurred. …
---