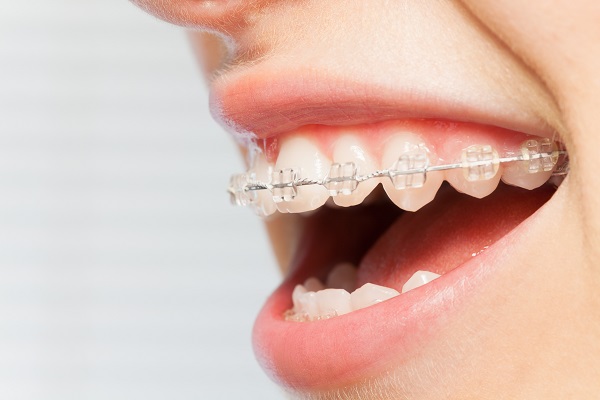 The two options for Six Month Smiles® treatment are invisible aligners and clear braces. One may be preferable to another in certain situations, and understanding the pros and cons of each option can help you decide which treatment is right for you to achieve a straighter and more attractive smile.
A review of the Six Month Smiles® treatment options
Six Month Smiles is a great way to fix issues with jaw and teeth alignment quickly. The following is a complete review of Six Month Smiles treatment, including insights into how to choose between the two options that are available to patients (invisible aligners and clear braces).
Six Month Smiles® explained
Six Month Smiles offers an innovative method of straightening your jaw and teeth alignment. The average treatment time is six months, and it can address the following concerns:
Overcrowding
Gaps between teeth
Crooked teeth
Underbite
Overbite
Crossbite
Patients who do not want to wait close to two years to achieve a straighter smile, which is often the case with traditional braces, may prefer treatment from Six Month Smiles. The entire process is monitored by a licensed dentist to ensure quality results and optimal safety.
Invisible aligners
Invisible aligners are a great option for patients who have mild alignment concerns. Invisible aligners are removable and easy to clean. The benefits of choosing this treatment option include:
Transparent appearance
Comfortable fit
Fast results
Fewer food restrictions
The ability to remove the aligners
Patients must have self-discipline with invisible aligners, as they do have the ability to remove them whenever they desire. However, it is important to wear them for 20-22 hours each day.
Clear braces
Clear braces are barely noticeable as well. They are often better at correcting more complex alignment concerns. They involve a bracket and wire system that gradually pull teeth to a more ideal position. The benefits of choosing the clear braces treatment system include:
Discrete appearance
Effective for most alignment concerns
Less self-responsibility required
Easier to keep clean through good oral hygiene
Some patients prefer clear braces because they are easier to care for and require less responsibility. This is because they are not removable, so constantly washing them and ensuring that you do not lose them are not concerns.
How to choose the best Six Month Smiles® option
Both invisible aligners and clear braces are effective in straightening smiles. The best way to determine which Six Month Smiles option is right for you is to consult with a dentist. In general, the benefits for each are similar, although learning more about the subtle differences is helpful when making a decision.
Determine if Six Month Smiles® is right for you with a visit
Are you ready to improve the alignment and overall appearance of your smile? Contact our dental team today to set up a Six Month Smiles consultation. We can discuss the benefits and potential drawbacks for invisible aligners and clear braces in greater depth and get the process to a better smile started on your first visit.
Request an appointment here: https://www.drsarahlangston.com or call The Dental Wellness Group at (601) 533-4788 for an appointment in our Brandon office.
Check out what others are saying about our services on Yelp: Read our Yelp reviews.
---
Related Posts
June 1, 2023
A dental crown usually lasts for many years. But it can become loose or fall out before it is supposed to be replaced. If your dental crown becomes dislodged or falls out, …