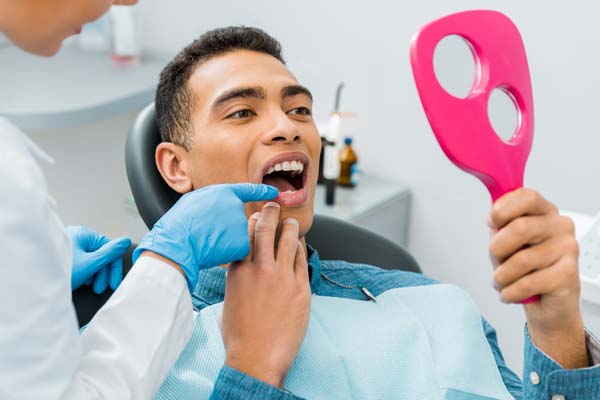 Learning the importance of oral exams is essential when it comes to preventing a gum disease diagnosis. This is why current recommendations state that all dental patients need to make regular dental appointments. An oral exam requires a dental professional to thoroughly examine your mouth in order to see if there any problems related to the gums, teeth, tongue and soft tissues. If they do find any problems, they will create a treatment plan so your mouth can once again be healthy.
About oral exams
Wondering just how important oral exams are to your good oral health? They are extremely important. When you make an appointment for an oral exam, you will have X-rays taken as well as undergo a visual examination. These two services will let you know the current health of your mouth. If there are any dental problems that need to be addressed, a treatment plan will be made in order of importance. One of the more important things a dental professional will look for is signs of gum disease.
About gum disease
According to the American Dental Association, gum disease is an infection of the tissues that surround and support your teeth. This means when gum disease is present, it is possible for dental patients to lose their teeth, which is something they definitely want to avoid. Gum disease is caused by a buildup of plaque and tartar on the teeth and can only be removed by a dental professional. Gum disease will only worsen without professional dental treatment.
The first stage of gum disease is gingivitis, which requires a cleaning to remove the plaque and tartar buildup. The second stage is when periodontal disease begins to present itself –– this requires a deep cleaning to remove the buildup of plaque and tartar. The third stage is moderate periodontal disease, which also requires a professional deep cleaning to remove the hardened plaque and tartar. The fourth stage is advanced periodontal disease, which often requires surgery or laser therapy to treat this deep periodontal.
Why regular appointments are needed
Regular dental appointments are needed because they detect any dental problems a patient is currently experiencing. Current recommendations state that dental patient should be seen about every six months, as this amount of time allows a dentist to treat any problems before they get out of hand. Dental problems are always easier to treat in their beginning stages. Once patients understand this, they are likely to schedule regular dental appointments to ensure their good oral health.
Are you overdue for your oral exam?
Now that you understand the importance of oral exams, when is the last time you had a dental professional examine your mouth? It really is essential for you to make regular dental appointments to check for any signs of gum disease. The earlier gum disease is treated, the easier it will be to treat. If you wait too long to have your oral exam, you may have gum disease and not even know it. Are you overdue for your next oral exam?
Request an appointment here: http://www.drsarahlangston.com or call The Dental Wellness Group at (601) 533-4788 for an appointment in our Brandon office.
Check out what others are saying about our services on Yelp: Read our Yelp reviews.
---
Related Posts
September 8, 2023
Tooth extraction can be a frightening concept, especially for those who have never had a tooth removed before and are not sure what to expect or those who have had a bad …