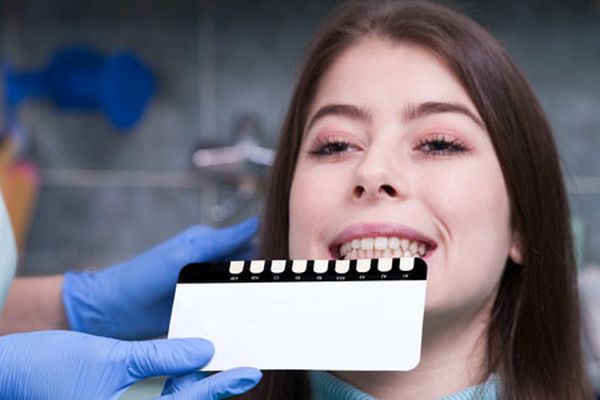 We can use porcelain veneers to give you a beautiful smile. As a dentist, we find that most of our patients visit our office for the first time complaining about certain aesthetic problems with their smile. Whether this is gaps in between teeth, or even teeth that are missing, it is normal for everyone to have something they don't like about their teeth. In many cases, these problems can be corrected with dental veneers. We can complete the process of improving your smile in only a couple of visits, so you can schedule your smile makeover before heading out on your annual summer vacation.
What Porcelain Veneers Can Do for You
#1 Cover dark stains.
We can provide you with a teeth whitening procedure in our dental office that can remove deep stains and discoloration from your teeth. We can help to restore your teeth to their natural whiteness. However, there are certain instances where a teeth whitening treatment is simply not enough and the dark stains or discoloration need to be covered with porcelain veneers.
#2 Close gaps in between your teeth.
If you have small gaps in between your teeth, there's no need to get orthodontics when you can have these gaps closed quickly. Using porcelain veneers we can close gaps in between your teeth and do so and only a couple of appointments vs. several months of braces.
#3 Make teeth appear to be straighter.
By bonding veneers to the surface of your teeth, we can make them appear to be straight even though the technical position of your teeth has not changed. Again, this can be done in a couple of appointments vs. several months to over a year.
#4 Create a symmetrical smile by changing the shape or size of teeth.
If one of your teeth are larger than others, it is going to cause your smile to look at ethically challenged. We can make your teeth look uniform by placing porcelain veneers on them.
#5 Restore damaged teeth.
If you damage one of your front teeth by cracking or chipping it, it is unlikely that you need a full dental crown to restore it. In many cases, dental veneers will be sufficient for correcting any damage so that you can smile with confidence and use your tooth without restriction or discomfort.
Schedule an Appointment for Porcelain Veneers
Porcelain veneers are thin porcelain shells that are created specifically for your teeth. They are designed based on the exact size, shape, and specifications of your teeth and what we are trying to accomplish. With a veneer, you are essentially replacing your natural enamel since they are bonded to the surface of your teeth. This makes it possible to change virtually anything about the aesthetic appearance of your smile. We find that patients appreciate how convenient the solution is and the fact that it can be completed much faster than some other solution. Simultaneously, porcelain veneers are natural and also durable.To find out if this solution is going to work for you call our office and schedule a consultation today.
---
Related Posts
April 5, 2023
If you desire a more aesthetically pleasing smile, dental veneers are options that you should consider. Veneers are thin, customizable shells created to cover the front sides of the teeth. A dentist …
---