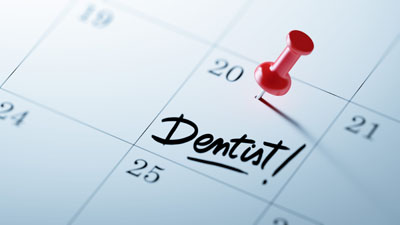 Regular dental visits are incredibly important for maintaining good oral health. Unfortunately, many people only visit the dentist when they have a dental emergency or something like a toothache. It is far better to make these appointments on a regular basis to ensure that problems are prevented. This is more economical and allows for better health.
The need for ongoing dental care
Without ongoing dental care, it is more likely that a person will suffer from cavities, gum disease and oral infections. Regular brushing and flossing at home are not sufficient for removing all of the plaque from on top of or between the teeth. While it is critically important and helpful in preventing things like dental decay, it is not enough without also visiting the dentist for a professional cleaning.
While here, we can thoroughly clean and polish the teeth, while also removing plaque and tartar. We can also floss the teeth to remove any plaque that builds up between the gums and the tooth.
Benefits of regular dental visits
During dental visits, we also thoroughly examine the teeth to allow us to notice signs of dental decay. Typically, decay manifests as soft spots in the actual tooth structure. When we see a patient twice a year, we are able to identify the key while it is still relatively small. In fact, it is possible for us to identify it prior to a patient ever experiencing a toothache. Also, by removing the decayed portion of the tooth early on, it reduces the likelihood of a dental infection and a more significant procedure being necessary, like a root canal.
At these appointments, we will also work to prevent gum disease by removing plaque and tartar. If we notice that gums are inflamed or swollen, we may also recommend that a patient has a deep cleaning. A deep cleaning is necessary for removing plaque and tartar from the area of the tooth that is not visible. Since this plaque is what leads to gum disease, it is critical to perform a deep cleaning as soon as possible. Essentially, these regular visits can:
Prevent oral health problems through preventative care (dental cleanings)
Identify issues early on
Prevent discomfort and save a patient money
Risks of not receiving regular dental care
The risk of not having regular dental visits is high. Those who do not may suffer from oral health problems that can lead to incredible amounts of discomfort and even tooth loss. It is possible for dental pain to make it difficult to bite down and eat, speak clearly or even go about normal activities without discomfort.
When this then leads to tooth loss, these problems are further exasperated and can become permanent. To treat the significant conditions, patients often spend thousands of dollars, so it is certainly far more beneficial to schedule regular preventive appointments. To do so, call our office today.
---
Related Posts
March 16, 2019
Wondering if you can do a few things to improve your dental care? Yes, there are! In fact, there are many things you can do every single day to support your good oral health. Of …
---