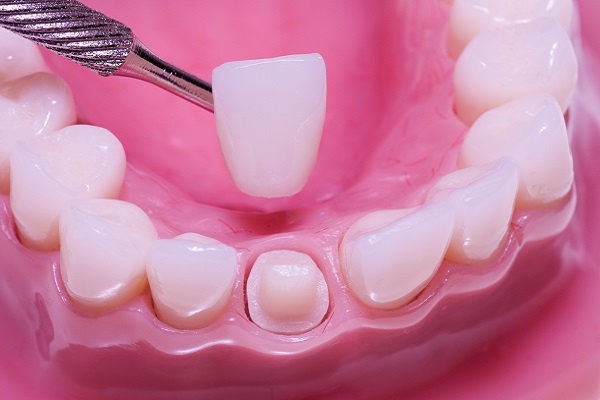 A dental crown usually lasts for many years. But it can become loose or fall out before it is supposed to be replaced. If your dental crown becomes dislodged or falls out, it is crucial to know how to handle the situation. Read on to find out what to do if your crown falls out.
Dental crown
A dental crown is basically a cap that fits over a decayed or damaged tooth. It helps to restore its shape, function, and appearance. But sometimes, these dental restorations fall off. Someone may not even realize that a dental crown has become loose until it eventually falls out.
What causes a dental crown to become loose?
Crowns can become loose and fall off due to many reasons. Sometimes, tooth decay can develop in the remainder of the tooth under the dental crown. If an individual has poor oral hygiene, bacteria and food debris can accumulate under the dental crown. This usually results in tooth decay over time. As the decay takes hold, it can end up affecting the fit of the dental crown. The crown may then become loose and more likely to fall out.
In some cases, there is not enough tooth structure left to hold a dental crown securely in place. A crown may also become loose due to consuming too many sticky foods or grinding the teeth. It can also happen if there is not enough cement to hold the crown in place or if a crown was placed incorrectly. In general, crowns fall off due to several reasons, including a lack of cement and an improper fit.
What to do when a dental crown falls out
If a dental crown falls out, it should be retrieved so that it can be taken to the dentist. In some cases, a dentist can re-cement the crown in place. But if it is broken or damaged, it may need to be replaced. A person should then call the dental office to schedule an appointment. In the meantime, it is vital to follow the dentist's instructions on how to care for the crown and tooth.
Some dentists might advise a patient to try to reinsert the dental crown back into its spot. In this case, a person should first gently clean inside the dental crown. The crown can be temporarily glued back in its spot using dental adhesive. But before the issue is addressed, people should be careful when eating and avoid chewing on the crown. A person should also avoid foods that are hard or require a lot of chewing.
Prevention
There are some things you can do to reduce the chances of your crown becoming loose or falling out. It is crucial to brush your teeth twice every day and floss regularly. It is also ideal to avoid chewing ice or very sticky or chewy foods. But if you still lose a crown, you should call your dentist to make an appointment. Depending on your situation, the crown can either be refitted or replaced.
Are you considering getting a dental crown in the Brandon area? Get more information at https://www.drsarahlangston.com.
Check out what others are saying about our dental services on Yelp: Dental Crowns and Dental Bridges in Brandon, MS.
---
Related Posts
January 18, 2023
If you are dealing with a damaged tooth, dental crowns may be a viable solution. These tooth coverings help restore a damaged tooth for a functional and healthy smile. While a …