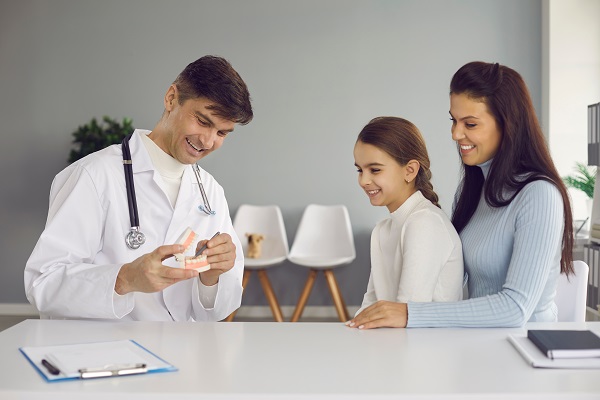 Looking for a new family dentist? Tooth decay refers to the erosion of dental enamel. When complete tooth decay occurs, the effects are irreversible, but weakened enamel can be restored and strengthened through treatment from a family dentist. If you have weakened enamel or tooth decay, then it is important to seek urgent treatment from a family dentist.
Tooth decay treatment from a family dentist
It is important to recognize the early signs of tooth decay to prevent the issue from worsening and requiring more invasive treatment. The following is a review of how a family dentist can reverse tooth decay in its early stages and how they may choose to treat concerns of moderate to severe tooth decay.
Tooth decay explained
Tooth decay — also called dental cavities, enamel decay, or enamel erosion — occurs when the minerals that make up tooth enamel on teeth break down. In the early stages of tooth decay, the symptoms include a change in the color of the tooth enamel. This could be a yellowish shade to teeth or, in some cases, weakened enamel may start to appear whiter. If the issue progresses, then symptoms such as small holes on teeth and black spots may develop. Patients often also experience bleeding gums and toothache in addition to tooth decay.
How to reverse tooth decay
In the early stages of tooth decay, meaning before the enamel actually erodes away from the tooth and small holes develop, tooth decay is reversible. There are certain treatments that strengthen weakened tooth enamel, which reverses the effects of tooth decay in the early stages. Most notably, dentists often prescribe fluoride treatment. Patients also are required to practice good oral hygiene by brushing, flossing, and using mouthwash while reversing the early effects of tooth decay.
Treatment options for severe tooth decay
If small holes develop on teeth as a result of moderate to severe tooth decay, then fluoride treatment cannot reverse the effects. Instead, the patient may require a dental filling, root canal, dental crown, or another type of restoration. These treatment options can restore the look, feel, function, and health of the damaged teeth in the long term. The family dentist will likely also prescribe a fluoride treatment to strengthen weakened enamel, along with educating the patient on good oral hygiene and appropriate dietary choices (see below).
Tips for tooth decay prevention
The best way to prevent tooth decay is through a consistent brushing and flossing schedule, appropriate use of mouthwash, limiting foods and drinks that are high in sugar, and other carbohydrates (i.e. candy, coffee, tea) and visiting the family dentist for regular visits. The family dentist can perform routine cleanings to remove plaque and tartar buildup on teeth, along with recommending appropriate fluoride treatment plans to keep enamel strong.
Contact our family dentist team to learn more
Contact our dental office today to learn how our family dentist team can treat the effects of tooth decay. We help our patients strengthen weakened enamel and promptly repair any dental cavities that develop.
Request an appointment here: https://www.drsarahlangston.com or call The Dental Wellness Group at (601) 533-4788 for an appointment in our Brandon office.
Check out what others are saying about our dental services on Yelp: Family Dentist in Brandon, MS.
---
Related Posts
August 1, 2023
During a visit with a family dentist, they will likely order dental X-rays and conduct a thorough dental examination. The examination allows the dentist to detect any oral health or cosmetic concerns …